Of Poseidon (The Syrena Legacy #1) - by Anna Banks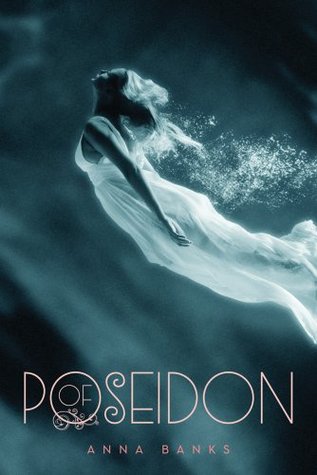 Official Blurb:
Galen is the prince of the Syrena, sent to land to find a girl he's heard can communicate with fish. Emma is on vacation at the beach. When she runs into Galen—literally, ouch!—both teens sense a connection. But it will take several encounters, including a deadly one with a shark, for Galen to be convinced of Emma's gifts. Now, if he can only convince Emma that she holds the key to his kingdom...
Told from both Emma and Galen's points of view, here is a fish-out-of-water story that sparkles with intrigue, humor, and waves of romance
My Review:
I have a little bit of a thing for mermaids and mermen but somehow YA fiction doesn't tend to do them justice...except this book does. SO much. To be honet, I didn't entirely know what to expect with this book - I just got a text one day, saying:
ya have to read of poseidon
and i'm like: wahhhh? so i'm ready to text back when I get:
it's AMAZING!
So, now I'm intrigued, right? Except that said friend refuses to text me back at such an instance so I just put it on my mental to-read list (which is LOOONG)
So there I am walking through my book store when I see none other than this book and so, on recommendation from my friend, I pick it up and open to page one. I didn't put it down after that. I had the book, a copy on my phone and one on my computer and one on my kindle so that, no matter where I was, I could read it. And I swear on all that is holy that right now it is taking all of my self control to remain here and not run to the bookstore to buy the second one. Or, more likely, turn on my kindle to see if the second one has downloaded yet.
So, now that I've gotten you all hyped and told you that there's mer-people in this book, you're probably wondering
why
this book is so amazing.
Why
, you asked? Well, that's a very good question.
1. Fast paced
To be quite honest, I was surprised when I finished the book because I felt like more needed to happen and, 300 odd pages should be enough to have tons of action, right? I'm not really sure anymore. I didn't manage to contain my urge to skip to the last page (oops, silly me) and yet I still polished it off in a couple hours. It just had me hooked and, sometimes, that's all you need.
2. The characters
I kind of felt like each different character represented different aspects of human nature, with a little bit of cross over of course. Being an english student sometimes ruins my life, but in this case it's led me to read this book with a little bit of a critical eye and an open mind - it's led me to look at how each character could be a representation of me and/or of humans in general and just the way that each character is developed and presented in each chapter is enough to have me feeling that each character is truly human and a representation of a part of me or at least someone I know
3. Banks' creation
I guess the entire book is Banks' creation, eh? No, but what I'm talking about here is specifically the creatures and the world that Banks has given to us, and how it contrasts with other creations that were based on similar situations. Just the complexity of the history of an entire species and the depth of thought that goes into every single part of this work is evident and SO amazing - something I, and other authors, strive to do.
4. The Writing
Told from dual points of view and dual persons (that's a word, right), this book really interested me through the way it was written. Told in both first person and third person occasionally gets confusing and yet Banks has managed to expertly manipulate this complex style to reveal a depth of plot, character and intellect not commonly found in literature today, let alone in a debut novel!
So yeah, in case you haven't realised this book caught me hook, line and sinker and as I type this I lament the fact that I don't make enough allowance to buy books two and three in paperback. *sigh* I guess an online version is better than nothing!
Fare the well, my friends, and keep reading! Let me know your thoughts!!
CONTACT ANNA BANKS:
~ Jenna ~